| | | |
| --- | --- | --- |
| | Web Of Angels! | |
©1998
Presented by Crafty College and Bluebonnet Crafters
---
Angel Note Card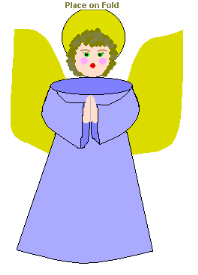 Materials

Paper, card stock or light Manila folder
Crayons, colored pencils or paint, colors of your choice.
1 small ribbon rose, fancy button or charm
Craft glue
Instructions:

Print out the angel to use as a pattern. Depending on your printer you can enlarge or shrink the angel to fit an envelope you have on hand. Fold in half. Fold the paper or posterboard in half and trace the angel with the flat area of her halo on the fold.

Color the dress using colors of your choice. Tip: Crayola has glitter crayons that would make her halo and wings really sparkle. Put in the details, mark the sleeve outline, the eyes and mouth.

Cut out the outline of the angel making sure that the fold at the top of her halo is not cut. Glue the ribbon rose or decorative button at the neckline or to cover her hands.

Lift the picture of the angel and write your note on the inside. This angel can fit in a regular envelope or use the pattern to cut an envelope to fit your angel.
Materials:


Sheet of paper
Glue stick
Pen
Scissors
Instructions:

To make the envelope, enlarge or shrink the pattern to fit your Angel.

Fold the two tabs on the edge toward the center and place a small amount of glue on the tab only. Fold the bottom section up at the red line pressing firmly over the tab areas to glue in place.

Place your angel in the envelope. Fold the pointed top down toward the first fold and glue in place. Address the anvelope and mail.

Option: You can cut the envelope from a pretty magazine picture and use a plain white label for a fancy envelope.

| Back to the Classroom at Crafty College |



---

Bluebonnet Village Craft Network
"http://www.BluebonnetVillage.com"
---
---
Copyright Notice: All pages and graphics are copyrighted by the Internet Visions Company and/or instructor. You may print these out for the use of the class only. All other uses or distributions are forbidden.
---
Crafty College is a division of the Internet Visions Company.
© 1998, Internet Visions Co. All rights reserved. All trademarks are owned by Internet Visions Company.